What to Recycle - Advanced Disposal
Staying educated about proper recycling etiquette is increasingly difficult as regulations and markets constantly change. Some of us may reflect on a time when waste was required to be carefully sorted into different bins for a multi-stream recycling process. It seems ironic that, as recycling becomes more complicated, single-stream recycling is more widely used, and all materials are recycled and collected in one bin. When we are no longer required to individually sort through all the materials that pass through our hands, we may simply take a guess and throw a non-recyclable item in the bin. This results in waste contamination. To combat this, many local waste corporations have launched education initiatives in order to spark a common understanding of how to sort materials for proper recycling. Plastic bags, for example, are commonly thrown in recycling bins where they do not belong, causing contamination.
To know the local initiatives in your area, reach out to Advance Disposal's website and take a look! If recycling options do not exist in your area, consider reaching out to one of these companies and having them set up in your community. Alternatively, adopting mindful shopping and zero-waste initiatives can help reduce waste ending up in landfills.
Read the full guidelines by Advance Disposal HERE.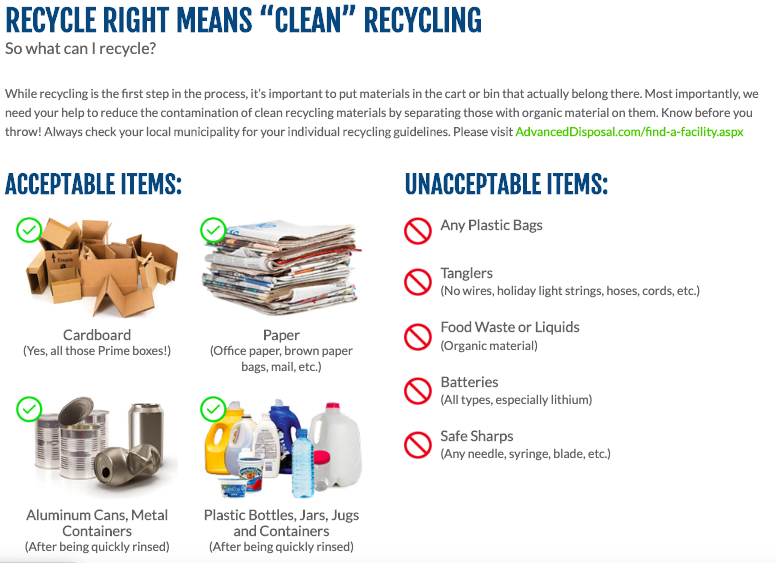 ---
Trademarks and copyrights are owned by Olivia Thomas and information is based on publicly available data. Ubuntoo is not affiliated with Olivia Thomas