The Essentials of Compostable Packaging
Compostable packaging is gaining steam. Though composting infrastructure is not yet widespread across the U.S., interest in this recovery pathway is growing rapidly. As more communities look to divert food scraps (currently at least 15% of the waste stream according to the EPA) out of the landfill, composting will be a big part of their materials management strategy. At the same time, cities across the U.S. are beginning to require compostable packaging for foodservice vendors, and retailers, quick-service chains, and even airlines are jumping on board.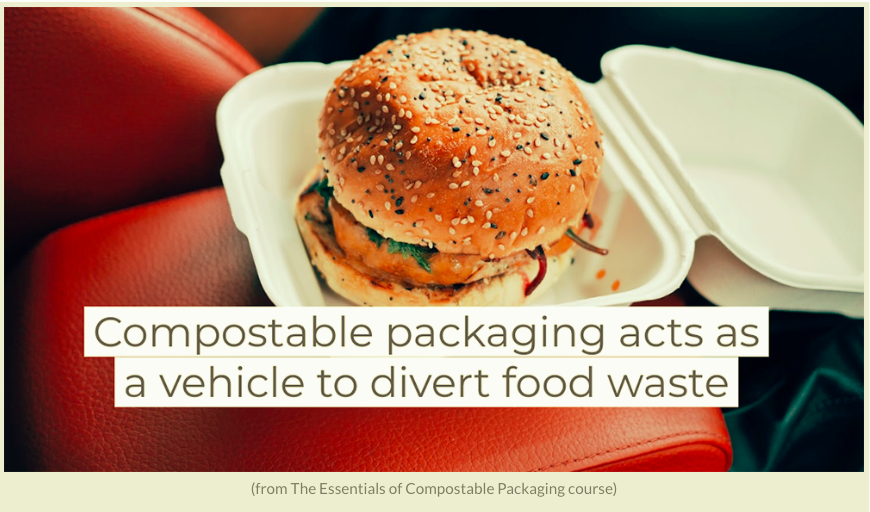 It's not just food service that's dabbling in compostables. In response to recycling challenges, CPGs are also starting to include compostable packaging as part of their packaging sustainability goals. Unilever, Danone, and PepsiCo have all included compostable packaging as a potential strategy for tackling currently unrecoverable packaging waste. Meanwhile, smaller food brands like Alter Eco chocolates, B.O.S.S snack bars, and Don Maslow coffee are experimenting with compostable wrappers.
So what do you need to know about compostable packaging to take advantage of this new business opportunity? In the SPC's online learning course, The Essentials of Compostable Packaging, you'll learn what's key to consider in this burgeoning space.
Take a preview of the course by watching the video below
The full course is available as part of the Essentials of Sustainable Packaging HERE.
---
Trademarks and copyrights are owned by Olga Kachook and information is based on publicly available data. Ubuntoo is not affiliated with Olga Kachook